Car sales have increased manifold in India in the last few years. Many reasons can be attributed to the jump in car sales. The primary reason is that cars are no longer considered luxury items. Many, in fact, have more than one car as their disposable income has gone up over the years. In tune with the rise in car sales, there is a higher demand for car insurance policies too.
It is mandatory in India to buy third–party liability insurance if you own a car. You need to have separate third–party liability insurance policies for every car you own. In other words, with each car purchase, there is a mandatory purchase of a car insurance policy.
A car insurance cover is an important document. If you misplace it, you could land in deep trouble. But fret not. If you are unable to find your insurance policy, you can check your vehicle insurance history, and there are different channels to do that.
You may need to check your car's insurance status if you have lost your insurance policy details. Another situation wherein you may need to check the status is when you meet with an accident, and you need to track down the details of the car in question.
Before we learn how to check car insurance status, it is important to know the different types of car insurance policies available.
Types of insurance policies
Car insurance is mandatory by law, so car owners usually end up buying third–party liability insurance rather than a comprehensive plan. While third–party liability insurance costs less, they cover limited expenses. Along with third–party liabilities, here are other insurance policies to know.
Third–party liability insurance: This is a mandatory cover that all vehicle owners in the country should have. It covers you in case of third–party liabilities that may arise if your vehicle was involved in an accident. Simply put, if Rahul crashes his car into Riya's car, Rahul's insurance provider only pays for damages caused to Riya's car. That means Rahul still has to bear expenses to repair damages to his car. You also get no riders, and the insurance policy's premium is determined by the regulator–the Insurance Regulatory and Development Authority of India (IRDAI).
Comprehensive insurance: A comprehensive insurance cover will cover damages to your vehicle and third–party liabilities. The extensive coverage protects you in case of an accident caused due to natural or man–made calamities or theft. The insurance cover also comes with optional riders that can help increase areas of protection. Comprehensive insurance premiums tend to be higher as compared to third–party liability insurance. It is advisable to invest in comprehensive insurance so that you get complete protection at all times.
Own damage policy: This policy will only provide for the damages to your vehicle. An own damage policy does not cover third–party liability. You may purchase an own damage insurance plan over and above the third–party liability insurance. However, it may fail to provide adequate coverage in case of accidents.
How to check the status of your car insurance?
When you purchase an insurance policy, it gets linked to your vehicle's registration number. Therefore, you are required to buy a separate policy for every vehicle you own. Linking insurance with the registration number helps you check your vehicle insurance status online by using the registration details. To find out how to check car insurance, here are some easy ways.
A. How to Check Car Insurance Policy Status Online
You can check your vehicle insurance status online via
IIB
VAHAN E–services
QR Code
1) Check Car Insurance Policy Status Via IIB
The Insurance Regulatory and Development Authority has a website known as Insurance Information Bureau or IIB. You can find all the details about the insurance policies that have been issued in India on this portal. Here are the steps to follow.
Step 1:
Visit the IIB website
Step 2:
On the tab "Quick Links", you need to click on V–Seva.
Step 3:
You will be redirected to the page of the retrieval system for accident vehicle information.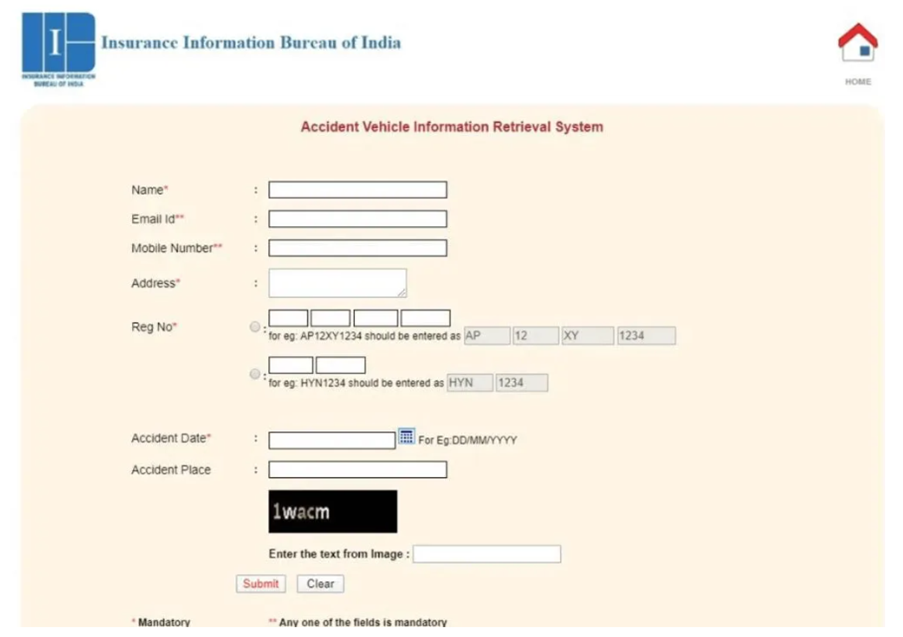 Step 4:
Provide the details like the owner's name, mobile number, address, vehicle registration number and email ID.
Step 5:
Additionally, if the vehicle has been damaged in an accident and you require further details to file a claim, you must provide information like the place and date of the accident.
Step 6:
Submit the form, and you will see the status of the insurance policy.
Things to keep in mind on the IIB portal:
When you check the insurance status, it is important to enter the registration number, excluding the special characters.
After purchasing the policy, you will see the details on the portal after two months. So, if you are trying to check the status of the vehicle within two months, you will not be able to find anything on the website.
Whenever submitting the details of a new vehicle on the portal, insurance companies only submit the engine and chassis number.
You can only see the information of the vehicle that has been bought after April 2010.
It is possible to conduct only three searches on one mobile number or email ID.
2) Check Car Insurance Policy Status Via VAHAN E–Services
You can also check your car insurance status on VAHAN, a Ministry of Road Transport and Highways website.
Step 1:
Visit the VAHAN e–Services website and click on "Know Your Vehicle Details".

Step 2:
Create your account by verifying your mobile number and email ID.
Step 3:
Now, provide the registration number of the car, and enter the verification code.
Step 3:
Click on ''Search Vehicle''.
Step 4:
You will see your car insurance details here.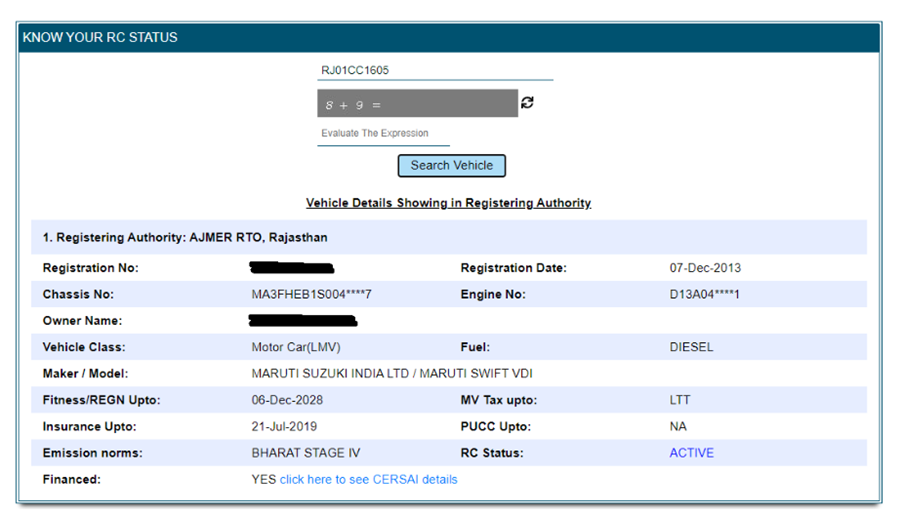 3) Check Car Insurance Policy Details Via QR Code
The IRDAI has mandated insurance companies to add a Quick Response (QR) code for every insurance policy. When you need to check your insurance details, you can simply scan the QR code on your smartphone and get your car insurance details.
B. How to Check Car Insurance Policy Status Offline
If you cannot find the insurance details through online means, you can use offline methods. You can visit the Regional Transport Office with the details of the vehicle. You may also speak to the insurance company and check the status.
Frequently Asked QuestionsCan I drive a vehicle without motor insurance?
As per the Motor Vehicle Act, 1988, you would be breaking the law if you drive a vehicle without insurance, and the penalty would be a fine or imprisonment.
Why can I not see my car insurance details on the IIB portal?
After you have purchased the policy, it takes up to two months for the insurance details to reflect on the IIB Portal.
What are the advantages of checking my vehicle insurance status online?
If your car has been damaged during an accident, you may need to access your insurance details. In such cases, you can easily check your car insurance status online via multiple channels using your vehicle registration number. If you are buying a used car from a dealership or owner, you can check the car's authenticity by checking its number plate.
Conclusion
It is important to be aware of the insurance status of your vehicle. If you miss out on renewing the policy on time, it will lapse, and you will end up without insurance cover. Those who have misplaced the insurance policy or are not aware of the coverage can use one of the online or offline methods to check vehicle insurance history. You must have the details about your vehicle handy in order to deal with unwanted situations like accidents or theft.